Main Content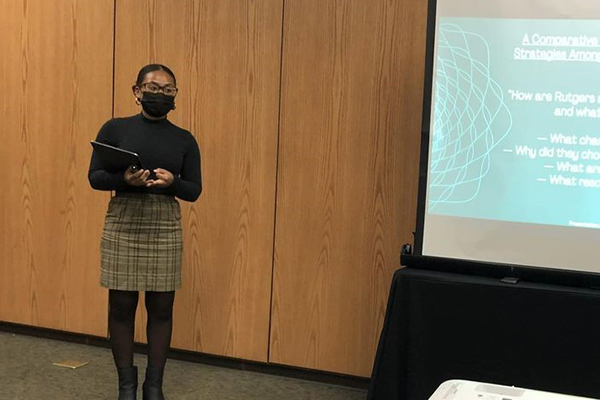 Vanessa Thomas, Environmental Policy Institutions and Behavior Major, was recently awarded an Undergraduate Research Fellowship by the Rutgers Aresty Research Center in the amount of $500.00 to help fund her study on student energy security. She will use the funding to purchase recruitment materials, such as flyers and handouts, and most importantly, to appropriately compensate students for their time when participating in the study which enables her to better recruit students for the study across different Rutgers campuses. Vanessa's research is one of the first studies conducted that focuses on how rising energy prices impacts enrolled undergraduates living off-campus and how they cope with these price increases.
Vanessa is a senior studying Environmental Policy, Institutions, and Behavior with a double minor in Social Justice and Sustainability. She is an active member of the Climate Reality Rutgers Chapter where she is the Membership and Events Committee Chair, and also involved in READ Club and One Health Club. Vanessa shares that "conducting formal research is a new experience for me, and I've learned an incredible amount of valuable information that I will carry with me long after I graduate. Not only am I fortunate enough to be granted the opportunity to conduct research through the George H. Cook Program, but also to be supported by my advisor, Dr. Rachael Shwom, in the pursuit of a research project that is my own research question and research design." She further encourages students interested to take advantage of the opportunities to conduct research here at Rutgers and within the Human Ecology Department. Independent research with a professor can count for EPIB's experiential learning (formerly known as EBE) requirement and completing a George H. Cook project can take the place of the Human Ecology capstone seminar.
Vanessa's research focuses on more fully understanding energy insecurity experiences among Rutgers undergraduate students who rent their places of residence. Energy insecurity, the inability of a household to meet their energy needs, is known to have both short and long term effects on poverty and health/wellness. Her research narrows in specifically on the Rutgers student experience, and understanding the effect(s) of the various ways that Rutgers students cope with energy insecurity experiences. As part of her research, she will be conducting interviews among Rutgers student renters from all three of Rutgers campuses (New Brunswick, Newark, Camden) in order to identify possible differences in experiences depending on campus location. She will use the information and experiences provided by Rutgers students to determine what resources are or are not available to them, and make recommendations about what resources are needed to better ensure that students can benefit from their assistance.